A short history
76077: revival of a forgotten locomotive: history and timeline
This is the story of 76077, a Standard Class 4 2-6-0 and its place in the final phase of steam locomotive development in the UK. Today 76077 is well on her way to becoming an operating locomotive once again following 30 years of inactivity. 76077 will in due course take its place in the steam fleet of the Gloucestershire Warwickshire Steam Railway (GWSR), based at Toddington – hence the name of the owning company, Toddington Standard Locomotive Limited (TSLL). The company would be grateful for any additional information about the engine, fresh observations or photographs of it in BR days or corrections to the story as told here by TSLL marketing director, Ian Crowder (e-mail info@standard76077.com).
Background information
76077 is a member of the British Railways Standard Class 4 2-6-0s built for mixed traffic work and, with a low 15 ton-16cwt axle loading they benefited from a very wide route availability. The design was a slightly modified version of and bore a close visual resemblance to, the existing LMS Ivatt class 4 2-6-0 of 1947. Dimensionally identical, the alterations reflected 'standard' fittings such as mountings on the BR7 boiler, high running plate without splashers and the appearance overall, following the Standard family design. Tests carried out at Swindon on the Ivatt class 4 2-6-0s, led to improvements in draughting, blast-pipe and chimney design, resulting in a very satisfactory and efficient class.
The Standard class 4 2-6-0 was designed at the former LNER works at Doncaster, where 70 of the 115-strong class were built and numerically, the last of the series, 76114, was also the last steam locomotive to be built at Doncaster in October 1957. Chronologically however, because of construction delays, 76099 was not only the last of the class to be completed in November 1957, it was also the very last steam locomotive to be built at Horwich works.
Apart from the 70 turned out from 'The Plant' at Doncaster, 45 were built at BR's Horwich works including 76077. The first was completed in December 1952 (shortly after the final Ivatt 2-6-0s were finished) and the last, as mentioned earlier, in November 1957.
In terms of allocation, the locomotives were widely distributed from Scotland to the South Coast, on all regions except the Western. They proved to be reliable and useful engines, and popular amongst the crews who operated them. 76077 was completed in 1956, carrying boiler number 1799 (which was built at Swindon) and equipped with BR2A tender[1] number 1462. Its first allocation was 8G Sutton Oak (see map). 76077 and her sisters displaced Ivatt 2-6-0s there and were used on local and longer distance freights as well as for occasional passenger duties to Warrington Bank Quay, and from Liverpool Lime Street to Wigan North Western and Manchester Exchange via Earlestown. A passed cleaner (Robin Richards) at Sutton Oak remembers the Class 4's with affection and recalls two trips he made on 76077 on the Pilkington Crown Glass Works sand trains, a regular turn for the class. He fired 76077 on 9 January 1963 and again on 16 December 1963, after which he was transferred to Willesden.
During its life, the engine visited the nearby Horwich works, the place of its birth, several times as follows:
5 – 28 June 1957: Non-classified
21 December 1957 – 4 January 1958: Light casual overhaul
19 August – 9 September 1959: Light casual overhaul
19 October – 28 November 1960: Light intermediate overhaul
7 March – 22 March 1961: Light casual overhaul
18 August – 28 September 1961: Light casual overhaul
14 – 28 November 1961: Fitting of ATC
19 December 1961 – 19 January 1962: Heavy casual overhaul
4 July – 18 August 1962: Heavy casual overhaul
2 December – 12 December 1962: Non-classified
It will have paid further visits to Horwich after that date which are unrecorded.
By the end of 1961 the engine had accumulated a little over 80,000 miles (an average of just over 20,000 per year – suggesting mainly local journeys around St. Helens). From 1961 the locomotive's record card has no further entries but taking that average, it is likely to have accumulated some 210,000 miles over its working life.
Between 9 January and 22 February 1964[2], 76077 underwent its first (and last) general overhaul, at Eastleigh works in Hampshire (because by this time Horwich was nearly finished with steam and was only handling repairs to 8F 2-8-0s). At this time, the former LSWR workshops were using spare capacity to take on work from other BR regions. In fact, the works was well used to the Standard 4 2-6-0s – the SR being a significant user of the class. It's interesting to note that during restoration of 76077's pony truck, parts from other locomotives were found – presumably used during this overhaul. These included the centre casting from 76054 (an LMR-based engine); the axlebox horn guides from 4MT 2-6-4T no. 80019 and axleboxes from Ivatt 2MT 2-6-2T no. 41294 (both SR-based locomotives).
During the overhaul 76077 received boiler 1052, one of the first batch of 10 completed at Doncaster in 1951. This boiler was originally fitted to SR-allocated 76007, then to 76012 in 1958. In 1964 the boiler was re-tubed (although the flue tubes were not changed) and had a large number of its original Monel metal stays replaced with copper stays, while new nuts were fitted to the remaining stays. The smokebox of boiler 1052 moved to the engine with the boiler and is recognizable in that the smokebox door sported the additional SR-style route indicator disk/lamp irons [3].
Of interest, 76077's original boiler, no. 1799, was overhauled and fitted to sister Sutton Oak locomotive 76079, which followed 76077 through Eastleigh works and which has since been restored and is currently operating on the North Yorkshire Moors railway.
It is known that after overhaul, 76077 worked running-in turns on local passenger services and was observed at both Bournemouth and Waterloo in early March. The local passenger service between Eastleigh and Bournemouth was a popular means of running-in freshly overhauled engines before being sent home. However, the locomotive remained on the SR for some weeks, having been noted variously across the region, including at Chertsey on 27 March 1964 at the head of a Feltham-bound freight. On 14th April it was photographed at Winchester hauling a Bulleid-Raworth co-co electric loco from Eastleigh, believed to be bound for Farnham electric depot via the Mid-Hants route and later the same day in charge of a local passenger service at Farnborough, on 14 April 1964[4].
On 17 April, 76077 was photographed running northbound through Wellingborough[5] with a petroleum tank train – almost certainly a roster designed to help the engine return home to Sutton Oak, since it was observed on the SR only three days earlier. It was witnessed at Sutton Oak and at Dallam in May that year.
Anecdotally, 76077 was observed at Swindon on 9th August 1964, being painted. The engine was apparently at Swindon for new centrifugally-cast valve liners[6] to be fitted suggesting that a mishap or mechanical failure caused the valves to be damaged necessitating the visit to Swindon. It would otherwise be odd that the engine should be sent back to a works so soon after its general overhaul at Eastleigh. Coincidental with 76077's Swindon visit, Sutton Oak sisters 76075 and 76076 were present for heavy casual overhauls and had been there for some weeks. However, there is note on the locomotive's record card – the only note since 1962 – that appears to read 'Maintained by Swindon 1 December 1963' so possibly the anecdotal observation is incorrect or wrongly dated.
There is also an unconfirmed report that 76077 spent a week on Swindon's test plant undergoing valve and blast pipe adjustments and combustion experiments with different types of coal. This may seem odd that such work might have been done so late in the day for steam – but at the time, it was not expected that steam traction would finish completely as early as it did. There is no official record that the engine visited Swindon, however. TSLL would be grateful for any firm information about the engine's visit(s) to Swindon.
76077 remained allocated to Sutton Oak until the shed closed in June 1967 when she moved with 76079, 80 and 84 to Springs Branch, Wigan (8F). However, Sutton Oak remained a sub-shed of Springs Branch for maintenance / stabling and fuelling of diesel locomotives until it was closed completely in December 1967.
The Standard 4s saw little work while at Springs Branch, but 76077 enjoyed a moment of glory on 5th August in that she worked the much-photographed LCGB 'Widnes & Warrington Brake Van Tour'. Springs Branch shed then closed to steam in December 1967 with the result that 76077 and the remaining three Standard class 4 2-6-0s were withdrawn, making them the first complete class of the standard tender locomotives to become extinct (other than the sole 8P class pacific 71000 Duke of Gloucester).
In February 1968, 76077 was observed still in store at Springs Branch but in March that year, was despatched along with shed-mates 76079, 76080 and 76084, to Woodham's scrap-yard at Barry in South Wales – the journey taking several weeks to complete with lengthy stop-offs on the way[7].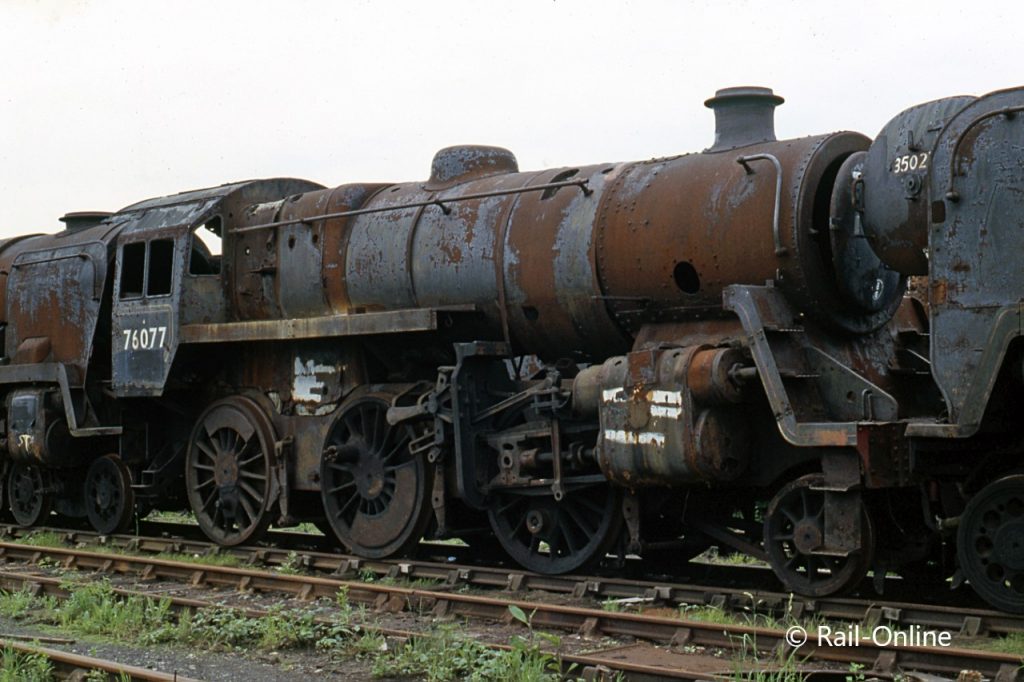 The four joined another Horwich-built member of the class, 76017 from the Southern Region at Barry. However, in April 1972, 76080 was broken up there – the last of the class to be reduced to scrap and one of the last four BR-owned steam locomotives to be broken up (the others were GW 2-8-0 3817 in 1973; 9F 2-10-0 92085 and GW 2-6-2T 4156 in July 1980). The four remaining Standard class 4 2-6-0s were all rescued for preservation and all except 76077 have returned to steam.
76077 was the last of the four Standard class 4 2-6-0s to be rescued from Barry. In December 1969, it was the focus of attention from the Standard 4 Locomotive Preservation Society based at the Keighley & Worth Valley Railway which started fundraising, but because of doubts about the condition of the engine, they turned their attention instead to Standard Class 4 4-6-0 no. 75078, where that engine is preserved today. 76077 was then bought by Chris Hinton and delivered to the Gloucestershire Warwickshire Steam Railway in May 1987 after a road journey of three days, thanks to failure of the road transporter. Many parts were missing including the chimney, smokebox door and tender and it presented a sorry sight when unloaded at Toddington. An early aspiration was that the locomotive would be the donor of a new-build BR 3MT 77xxx 2-6-0, which shares the same bottom end although having different wheel types (albeit of the same size). The boiler would come from a GWR 5105 class Prairie (on which the BR locomotive boiler was based) which was earmarked, but in the end both have been preserved as built. The engine was soon dismantled and some useful restoration work was carried out while parts were acquired including the connecting rods from the ill-fated 76080. For various reasons, work ceased and the engine's constituent components were loaded on to wagons and stored for the next 30 years – and over time, 76077 largely faded from public consciousness.
Fast forward to 2017 and sister locomotive 76017 paid a visit from the Mid-Hants Railway for the GWSR's annual Cotswold Festival of Steam. It was a popular engine amongst crews and visitors – many commenting on what an ideal locomotive it was for the 14-mile line. This led to an examination of the slumbering components of 76077. At this time, the GWSR Board was also pressing to see either something happen to the engine to secure its future or have it removed from the site. Thus, 76077 was brought out of hibernation.
A group of steam locomotive department members had started negotiating with Chris Hinton with the result that Toddington Standard Locomotive Limited (TSLL) was formed, and ownership transferred to the new company. The first task was to shot-blast the frames and boiler and apply a protective layer of paint while agreement was reached for the overhaul to mainly be carried out at Locomotive Maintenance Services at Loughborough.
The frames were moved to their workshops in early 2019 following shot-blasting (the boiler remaining at Toddington) and work started in earnest later that year. By spring 2020 much work had been done on the frames, many components overhauled or manufactured and the pony truck completely overhauled and reassembled for the first time in over 30 years. By October both front and rear drag boxes had been fitted along with the front and rear buffer beams. By summer 2021 the frames had been re-wheeled, the new smokebox complete with door was being completed and work was progressing on the cab. A boiler inspection in August 2021 suggested that the boiler was in very good order with relatively minimal work necessary.
So, what of the tender? Sister 76017 lost her BR2 tender while at Barry, sold to Briton Ferry steelworks so the chassis could be used as a billet carrier while the tank literally went into the 'melting pot' (this fate awaited several tenders at Barry)[8]. 76017 was purchased for the Mid-Hants Railway and as the tender was missing, the BR2A (the 'A' signifying the addition of a fall plate and gangway doors – the latter previously attached to the cab) from 76077 was purchased and it is now restored and runs behind 76017. TSLL intends to construct a new tender from some components already available while initially a tender could be hired in once the locomotive is complete. There is at the time of writing, a strong possibility that the tender opted for will be a type BR1B, a larger tender widely used with the SR allocated members of the class – the greater water capacity giving increased range as the SR did not have water troughs.
In 2022, the locomotive became a 2-6-0 once again with the fitting of the former 76080 coupling rods, along with a host of new and refurbished components; and the new cab has been trial-fitted to the frames. A significant fund-raising launch in order to pay for the estimated £150,000 cost of overhauling the boiler was scheduled for 2023.
76077 Timeline – Observations and Works Visits

Date
Location
Notes

1956

16 Sept
An engine is born: Horwich Locomotive Works
76077 noted as under construction in the erecting shop, along with 76076. The first recorded note of the engine's identity
7 & 28 Oct;

18 Nov

Horwich Locomotive Works
76077 noted as under construction along with 76075/76/78/79
16 Dec
Horwich Locomotive Works
76077 noted as under construction along with 76076/78/79
27 Dec
Horwich locomotive Works – date of completion.
Completed as part of Lot No. 249, equipped with boiler no. 1799 and coupled to BR2A tender no. 1462. Entered traffic at Sutton Oak shed (10E)
31 Dec
96 miles in service ytd
Sutton Oak, 10E

1957

5 June
Horwich works
Non-classified repair
28 Jun
Horwich Works / Sutton Oak (10E)
Returned to Sutton Oak
3 Aug
Manchester Exchange
Photographed by N E Preedy leaving the station with empty stock
15 Dec
Sutton Oak (10E)
Observed by Brian Swinn, on shed with 76075-79. Other locos present included 4 Ivatt 2MT 2-6-2Ts; 3 Fowler 4F 0-6-0s, 2 'Jinty' 0-6-0Ts, 1 8F 2-8-0, 2 ex-L&Y Aspinall 0-6-0STs, 4 ex-L&Y Aspinall '27' class 0-6-0s and one ex-LNER B1 4-6-0
31 Dec
23,240 miles ytd
Total mileage in service 23,336

1958

29 June
Sutton Oak (8G)
Shed code changed from 10E to 8G. Sisters 76075 and 79 also present
31 Dec
Sutton Oak. 20,893 miles ytd
Total mileage in service 44,229

1959

18 Aug
Horwich works
Light casual overhaul
9 Sept
Horwich works / Sutton Oak
Returned to Sutton Oak
31 Dec
19,816 miles ytd
Total mileage in service 64,045

1960

12 June
Sutton Oak
Also present 76020/75/78/79
02 Oct
Sutton Oak
Also present 76020/75/76/78
19 Oct
Horwich works
Light Intermediate overhaul
22 Oct
Horwich works
Noted in the yard. Also present 76041/42/43/44
18 Nov
Horwich works
Noted in the erecting shop under repair. Also present 76022
28 Nov
Horwich works / Sutton Oak
Returned to Sutton Oak
31 Dec
16,153 miles ytd
Total mileage in service 83,198

1961

7 March
Horwich works
Light casual overhaul
22 March
Horwich works / Sutton Oak
Returned to Sutton Oak
18 June
Sutton Oak
On shed. Also present 76020/23/75/76/78/79
9 Jul
Sutton Oak
On shed. Also present 76020/23/75/76/78/79
18 Aug
Horwich Works
Light casual overhaul
28 Sept
Horwich Works / Sutton Oak
Returned to traffic
24 Oct
Patricroft to York, Light engine York to Mirfield
Alan Schofield fired 76077 on the heavy Holyhead-York cattle train, 76077 taking over and working the service to York. Alan was based at 56D (Mirfield) and had worked a passenger service to Manchester, taking the loco back to 10C Patricroft. His next duty was to prepare and fire the locomotive taking over the cattle train, the normal locomotive being a 'Black 5' 4-6-0. To his surprise and initial concern the locomotive rostered was class 4 2-6-0 no. 76077 which Alan was to work as far as Mirfield, when a fresh crew took the train to York, working it l/e back to Mirfield. He reported that the engine 'steamed perfectly', more than capable of handling the service to time and that it was a 'fantastic trip' that he will always remember.
13 Nov
17,175 miles ytd
Total mileage in service to date, 100,373.

No mileage recorded after this date

14 Nov
Horwich Works
Fitted with AWS. Members of the class so fitted can be identified by a steel plate below and at the centre of the buffer beam, designed to prevent the coupling swinging and damaging the equipment positioned just behind the buffer beam
28 Nov
Horwich Works / Sutton Oak
Returned to Sutton Oak

1962

21 Jan
Sutton Oak
On shed. Also present 76020/75
29 Apr
Sutton Oak
On shed. Also present 76020/23/75/76/78/79
4 July
Horwich works
Heavy casual overhaul
7 Aug
Horwich works
Noted as under repair
17 Aug
Horwich works
Returned to traffic
18 Aug
Bolton (several observations and photographs)
Piloting Jubilee class 4-6-0 no. 45601 British Guiana with the 9.20am Manchester Victoria-Glasgow express
2 Dec
Horwich works
Non-classified repair
12 Dec
Horwich works / Sutton Oak
Returned to traffic

1963

13 April
Photographed at Sutton Oak
Passing shed with a van train
14 July
Sutton Oak (observed by Terry Andrews, Dave Clark)
On shed. Also present were 76076 and 76078
17 Nov
Sutton Oak
On shed. Also present 76076/79
Dec
Possibly at Swindon Works
New valve liners believed to have been fitted (see also July/Aug 1964)

1964

9 Jan
Eastleigh Works
General overhaul.

Received boiler no. 1052 (previously on 76007 from new, 76012 from 1958). Work included 466 copper stays, 198 new stay nuts, 156 new Tube Products smoke tubes

22 Feb
Eastleigh Works / Eastleigh shed
Returned to traffic at Eastleigh
Feb/March
Observed at both Bournemouth and London Waterloo (no exact dates)

Photographed on Bournemouth shed (70F) (EBay image)

Running-in turns
26 March
Chertsey
Observed by Phil Kelly on a Feltham freight
6 April
Basingstoke Shed (70D)
Observed on shed by Robert Thomas
14 April
Photographed at Winchester City by Ian Duncan
Heading north towing Bulleid electric loco 20002 which had been overhauled at Eastleigh Works and was at the works at the same time that 76077 underwent its overhaul. Picture now in the Stephen Mourton collection
14 April
Farnborough
Observed by Phil Kelly on local passenger service
17 April
Photographed at Wellingborough by Richard Dunkley
Heading north with petroleum tank train having come off the WCML via Northampton
23 May
Photographed at Dallam
Running tender first with coal hoppers (8D assoc)
10 June
Photographed at Winwick Jn
Running tender first with freight (SLS)
Late Jul /Aug
Possibly at Swindon works
New valve liners fitted (Dr. Michael Smith)
9 Aug
Possibly at Swindon works
Observed being painted (Andrew Pepper). Also in works 76075/76. Note: this date may be wrong and the visit could have been December 1963
12 Sept
Sutton Oak
On shed. Also present 76076/78/79
1 Nov
Sutton Oak
On shed. Also present 76076/78/79

1965

April
Sutton Oak
Total 9 BR cl.4 2-6-0s now allocated to Sutton Oak: 76076-84. (76023 was allocated here Aug 1960-July 1962; 76051 and 76075 moved to Sutton Oak in November 1966 from Colwick)
12 & 14 April
Edge Hill (8A)
Observed by Kenn Pearce
1 May
Sutton Oak
Also present 76079/80/82/84

1966

17 Feb
Sutton Oak
Also present 76079-84
29 Mar
Photographed at Winwick Jn
Hauling a lengthy mixed freight southbound
19 Aug
Between Crewe and Preston
Spotted by Robert Thomas from a passing train, exact location not noted
24 Nov
Approaching Manchester Piccadilly
Photographed by Robert Thomas

1967

3 Jan
Sutton Oak
Brian Swinn visited to find 25 locomotives on shed, three of which were class 08 diesel shunters. Six Standard 4 2-6-0s present. Apart from 76077 were 76075/76/79/80/83/84. The remainder comprised one Black 5 'in immaculate condition' and the rest 8Fs.
5 Feb
Sutton Oak
Observed by Martyn Smith, also present: 76051/75/76/78(withdrawn)/80/81/83/84. 76079 was allocated to Sutton Oak but not present.
10 members of the class allocated to the shed.
13 Feb
Sutton Oak
On shed. Also present 76080/84
24 March
Sutton Oak
On shed (observed by Stephen Mourton)
9 Apr
Sutton Oak
On shed. Also present 76075/79/80/81/84
14 Apr
Photographed at St Helens
Shunting St Helens down sidings
19 June
Sutton Oak shed closed
Still used for stabling for some weeks
19 June
Re-allocated Springs Branch (8F)
Along with 76075/79/80/81/84
5 August
Photographed variously around Widnes and Warrington
LCGB Widnes & Warrington Brake Van Tour
25 Nov
Springs Branch (8F)
On shed.
2 Dec
Springs Branch
Engine withdrawn 2 Dec 1967
Dec
Springs Branch
Noted stored on 10, 17, 29 and 30 Dec
29 Dec
Springs Branch
Photographed by Peter Rigby, on the scrap line

1968

8 Feb
Springs Branch
Noted still stored outside the shed
March
Springs Branch
Departs for Barry along with 76079/80/84; and joined by 9F 2-10-0s 92153 and 92212
7 Apr
Coton Hill Yard, Shrewsbury
Noted dumped in yard en-route to Barry, South Wales
10 Apr
Sutton Bridge Jn, Shrewsbury
En-route to Barry
11 May
Cadoxton Goods Yard, Glamorgan
Stored, awaiting delivery to Woodham Bros.
31 Aug
Cadoxton Goods Yard, Glamorgan
Seen 11 May, 29 Jun, 18 Jul as well as 31 Aug
11 Sept
Woodham Bros, Barry scrapyard
76077 delivered to the scrapyard having left Springs Branch in March. In company with 76084. 76079 and 84 followed shortly after along with 92212. 92153 which accompanied the entourage went from Cadoxton to Cashmores of Newport where it was broken up
11 Sept
Woodham Bros., Barry scrapyard
Arrived at Woodhams

1969

December
Woodham Bros., Barry scrapyard
76077 reserved for Standard 4 Locomotive Preservation Society based on the Keightly & worth Valley Railway. Reservation later changed to 75078 which was eventually saved by the group and has returned to working order on the Keighley & Worth Valley Railway
1972
April
Woodham Bros., Barry
Sister 76080 broken up, the last member of the class to be scrapped and the only locomotive scrapped at Barry that year. Four members of the class remain, 76017/77/79/84

1974

January
Woodham Bros., Barry
76077 loses its valve gear, chimney, smokebox door and tender to sister 76017 which departs Barry for Quainton Road. 76017's own tender had previously been sold to Briton Ferry steelworks as a billet carrier

1987-2017

March 87
Woodham Bros., Barry Scrapyard
Purchased by Chris Hinton
May 87
Toddington, GWSR
Arrives for restoration. Work starts on dismantling the locomotive. Some restoration work carried out.
1990-2017
Toddington, GWSR
Locomotive parts loaded on to wagons and stored

2017

May
Sister 76017 visits GWSR for Cotswold Festival of Steam, Late May Bank Holiday weekend
Members of steam department consider how to restore 76077, inspired by the visit. Note, 76017 has the tender originally attached to 76077.

GWSR Board meanwhile suggests that if the locomotive is not going to be restored it should be removed from GWSR property. Negotiations to transfer ownership to a new company begin with owner, Chris Hinton

2018

11 Jan
Toddington, GWSR
Locomotive's components removed from storage on wagons in the north headshunt at Toddington and moved to the shed yard.
12 Jan
Toddington
Parts craned into an area of the car park and a tent erected over them; shotblasting commences. Cleaned components given protective layer of paint
6 March
LMS Loughborough
Shotblasted frames arrive at Locomotive Maintenance Services to commence restoration
6 March
South Devon Railway, Buckfastleigh
Wheelsets arrive for overhaul
From March
LMS Loughborough
Component manufacture and sourcing ongoing from now
4 Sept
Toddington Standard Locomotive Ltd (TSLL)
Incorporated and registered as a private limited company at Companies House. Locomotive's ownership formally transferred to TSLL. First directors are Chris Irving, Richard Winstanley, Chris Hinton (previous owner), Ian Crowder

2019-2021

Jan onwards
Frames moved into LMS workshops, Loughborough
Corroded metalwork starts to be removed and serious restoration work commences including new front dragbox metal, fitting new front buffer beam and buffers, complete new rear dragbox, rear buffer plate, horn stays. June 2021, frames re-wheeled. August 2021 the boiler was inspected at Toddington. By 1st October, smokebox fitted temporarily in time for a shareholder open day at LMS
2 Oct 2021
Open Day at LMS
On its wheels and with brand new smokebox complete with door, chimney and number/shed plates in place

2022

2021 / 22
Locomotive Maintenance Services, Loughborough
Work continues on manufacture and refurbishment of components which are steadily fitted to the frames, following completion of painting of the frames. In August, the refurbished coupling rods, complete with new bearings, are fitted and the cab assembly trial fitted to the frames
3 Sept
Second open day at LMS
Visitors saw the engine as a 2-6-0 once again with the cab in situ. Decision taken to replace the cab sides as the originals are corroded in places to too great an extent. This means that by far the majority of the cab is brand new
Several Sutton Oak observations https://shedbashuk.blogspot.com/2012/11/sutton-oak-1954-1963.html
REFERENCES:
[1] Three BR tender types were attached to the Class 4 2-6-0s. BR2, (no fallplate) was attached from new to nos. 76000-44; BR2A (with fallplate and gangway doors) attached to 76045-52/70-114 (both types 3,500 gal water and 6 tons coal). Nos. 76053-69 were equipped with the high sided BR1B, 4,725 gal. water and 7 tons coal for the SR. All types were capable of being equipped with a water scoop.
[2] Source: locomotive record card and Stephenson Locomotive Society (SLS) records
[3] Eastleigh Works Returns record of work carried out and period within the works, records held in the National Archive
[4] Sightings recorded by Phil Kelly and Ian Duncan
[5] Pictured by Richard Dunkley – the working almost certainly designed to get the engine back to Sutton Oak
[6] Record from Dr. Michael Smith, who worked at Swindon. Reference to the engine being painted, an observation by Andrew Pepper
[8] Source: Roger Hardingham, author of The Barry Story and other books about the locomotives at Barry scrapyard