Work continues at Loughborough with the painting of the inside of the locomotive frames. The reversing shaft has been refurbished and is ready for fitting when the inside frame paintwork is completed. All the pins that secure the horn guide frame stays have been hardened to reduce wear together with the latest batch of brake gear pins and bushes machined at Toddington in the machine shop.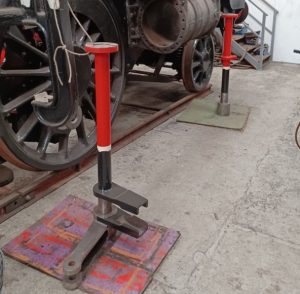 In my home workshop, a quantity of small bore lubrication pipe fittings have been machined, together with some larger pipe unions for the steam brake pipework. I am also in the process of making the steam brake lubricator which fits on the bottom of the drivers pedestal in the cab. This component enables a small amount of steam oil to be introduced to the loco and tender steam brake cylinders by the driver during their daily preparation of the locomotive.
At Unity engineering the cab continues to progress and bar any unforeseen circumstances, is expected back at Loughborough in early April. The new cab window runners have been fitted top and bottom and the fireman's seat and locker has been repaired, finally we have a usable drawing for the complex cab roof profile and that has enabled the rolled steel plate to be ordered.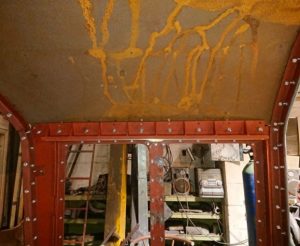 Out in the work area, braving the cold, (but fortunately not rain) our team of volunteers are making good progress with the cleaning up and polishing of the coupling rod's having so far completed both of the leading rods.
Finally at Toddington the GWSR machine shop have been very productive during the railways closed season, and are currently machining two new draw hook nuts for engine and tender, a pair of die blocks for the reversing shaft are also being machined together with fitted bolts and spacers for the valve crosshead assemblies. As ever our thanks goes to them for their contribution to the project.
Andrew Meredith