Apologies for the late arrival of this workshop update, with the GWSR Steam Gala fast approaching I found myself busier than ever trying to prepare things for our sale stand (more about this next month).
Back to our loco and the painting of the inside of the frames is now almost complete, only the rear drag box area is now to be completed. The Reversing shaft has been refitted and the clearance in the split bearings checked. Fortunately both the shaft and bearings are in good order, with the clearance being only 0.003" greater than the original specification, so we have definitely benefited from 76077's last general overhaul at Eastleigh. We are awaiting delivery of a replacement balance spring for the reversing shaft as our old one was found to be in two pieces on removal. A replacement sourced by Chris Hinton many years ago is actually the wrong length for the 76xxx class of loco (There's nothing standard about a 76xxx standard loco!!). The horn casting frame stays have been refitted and permanently secured and the new axle box dust covers fitted above leading and trailing axles. The driving axle box dust covers are actually original items with a small weld repair carried out to make them serviceable again.
At home in my workshop, the smiths speedometer indicator has been repaired, refurbished and tested together with the wheel diameter box and return crank generator. Having completed these tests the generator has been fitted to the speedometer return crank and assembled on the left trailing wheel set. The wheel diameter box which enables the speedometer to be adjusted according to the tyre thickness has also been fitted to the frames on the original bracket under the driver's side of the cab.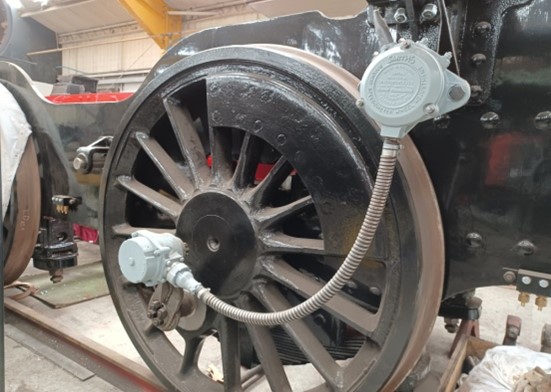 In the last update, I had speculated that barring any unforeseen circumstances, the cab would be back at Loughborough in April, well that was not the case. We have been waiting for the cab roof profile to be rolled by a specialist plate rolling company and after nearly 8 weeks we were pleased to hear it had arrived at Unity Engineering – only to be told that the rolling company had made a mistake and rolled it in the wrong thickness material – of all the unforeseen things, I never saw that coming!!! So the roof has been returned to the supplier, and we are now awaiting their second attempt, in the correct gauge material. The new front angled sections of the cab are done so it's only the roof now to complete.
Finally at Toddington, the GWSR machine shop have been as productive as ever – completing a selection of parts including pins for the radius rod die blocks, a pair of 2" Whitworth nuts for the loco/tender draw hooks, die blocks and cover plates for the reversing screw assembly. As always we are very grateful for their help manufacturing the thousands of small parts that go on to the finished locomotive.
Pictures and Text – Andy Meredith – Toddington Standard Technical Director